Data governance
Global Manufacturer Overhauls Data Practices with Modern Data Governance Framework
This global HVAC and refrigeration systems manufacturer wanted to accelerate their data-driven decision-making but knew data quality issues were holding their team back. They came to Wavicle for assistance evaluating their existing data governance maturity level and developing a comprehensive data governance framework to improve the reliability of their organization's data and ultimately help their teams make better decisions faster using higher quality data.
Data challenges from a data governance gap
Businesses everywhere know that strong data programs fuel better business decisions, but establishing the processes and accountability necessary for fast access to accurate data is challenging. This manufacturer faced two fundamental problems that restricted their ability to build a culture of data-driven decision-making:
Low data quality: The business needed more consistent and reliable data.
Inconsistent terminology: Data definitions (for example, the definition of a customer) fluctuated between business units, and there was no single version of the truth.
Together, these problems contributed to low trust in business decisions. Relying on low-quality and inconsistent data made it difficult for leaders to make decisions confidently based on the company's data. In addition, these data issues hindered the company's ability to understand customer needs and opportunities accurately. To drive further growth and profitability, they needed to understand their customers' problems better, which is nearly impossible without comprehensive customer data and a single version of the truth.
To address these challenges, the manufacturer engaged Wavicle's strong team of data governance consultants to evaluate their data maturity level and develop a governance framework to raise their overall data quality and trust. With no existing data governance program, they needed Wavicle's guidance to help lay a strong foundation for their data practices now and in the future.
The path to effective data governance
The Wavicle team took a three-step approach to setting this global manufacturer on the path to modern data governance.
Assessing the current state
Wavicle's consultants started with a current-state assessment to identify core problems and desired use cases for the company's data. By interviewing 40 business and technology stakeholders about their data needs and challenges, Wavicle's consultants gauged maturity levels and gathered the information needed to develop a roadmap for bringing the client's data governance maturity to a high level.
Developing a framework
Next, Wavicle's team created a recommended data governance framework for the manufacturer. This records the roles and responsibilities of data stakeholders throughout the organization, establishes who is responsible for developing policies and procedures, identifies data stewards and owners by subject area, and sets the foundation for a company-wide data governance council. This framework addresses data governance concerns at every level and in every business unit. It sets the company on track to improve their data quality and reliability and creates procedures for tackling major data problems and future data initiatives.
Establishing a roadmap
As the final step, the consultants created a 12-month data governance roadmap for the manufacturer. It included a snapshot of what the manufacturer's data looks like today, identification of the major workstreams necessary to implement a data governance framework, and a data quality scorecard that will allow teams to track and measure the quality of their data effectively.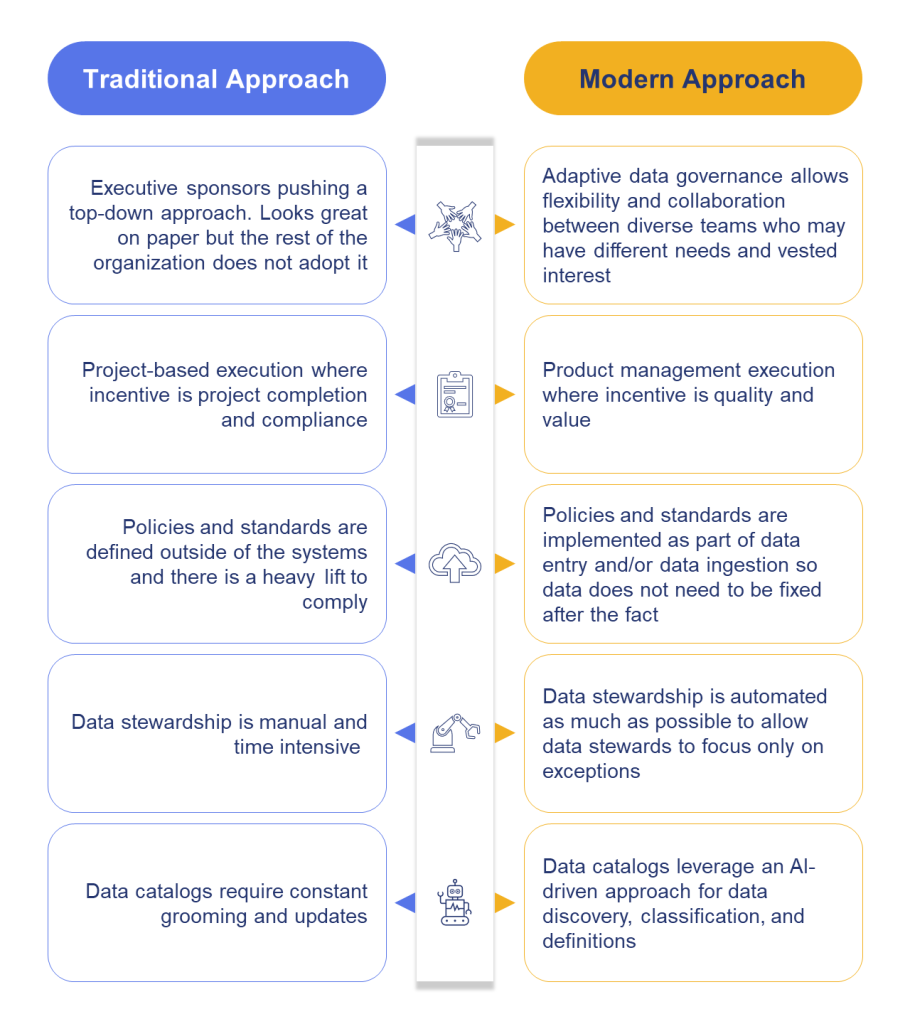 Implementing the data governance roadmap
Wavicle delivered the data governance maturity assessment, framework, and roadmap, and the manufacturer has taken the first steps in their data governance journey by partnering with Wavicle's team for a pilot program.
This data governance program will resolve their data quality and reliability issues and create trust in their company's data that will facilitate better business decisions over time. Higher quality, reliable data will enable the manufacturer to pull comprehensive reports about their customers to identify pain points and opportunities that will ultimately boost their company's bottom line.
ABOUT WAVICLE DATA SOLUTIONS
Wavicle Data Solutions provides award-winning cloud data and analytics solutions that accelerate value, reduce risk, and empower our clients to make smart, data-driven decisions. We combine deep technical expertise and industry knowledge with proprietary automation tools to support the rapid shift to modern data architectures and real-time insights. Today's executives need more visibility into their businesses, faster than ever, and we help them get it. Founded in 2013, Wavicle has been recognized as an Inc. 5000 company four years running and is a multi-year recipient of the Chicago Tribune's Top Workplace award. Wavicle is also an NMSDC-certified MBE. For more information, visit wavicledata.com.