Data pipelines
Global Electronics Manufacturer Saves Millions With Data Pipelines Built for IMMEX Compliance
One of Wavicle's long-term partners, this global electronics manufacturer is focused on nearshoring manufacturing to Mexico as one of their top strategic business priorities. Expanding their manufacturing footprint in Mexico offers a number of benefits, from access to a highly skilled, lower-cost workforce to supply chain flexibility with Mexico's 30 ports for efficient import and export of raw materials and goods. However, one of the most significant benefits is the ability to leverage the IMMEX program through the Mexican government for cost savings.
Through IMMEX, the manufacturer projects savings of up to $50 million in the first year alone. These savings come through exemptions from the 16 percent value-added tax (VAT) added to imported raw materials and manufacturing equipment and exemptions from export taxes for finished goods. However, the program requires comprehensive data tracking every piece of their procurement, production, and supply chain processes. They came to Wavicle for help collecting and integrating their many data sources to become IMMEX compliant and improve their bottom line.
The challenges of IMMEX compliance
To fulfill the requirements of Mexico's IMMEX program, the global manufacturer needed the ability to track the following:
Every stage of production from raw goods to finished product exports
All waste, scrap, or donated materials
All imports, exports, and bills of materials (BOMs)
All goods originating from non-NAFTA countries and proof that duties have been paid accordingly
This requires detailed and comprehensive data tracking for all manufacturing activities, raw material imports, and goods across the manufacturer's Mexican factories, also called maquiladoras. Beyond internal tracking data, they also need access to a vast amount of data from different ports, suppliers, and supply chains – each of which provide data in different formats and using unique naming conventions. All of this data needs to be collected, processed, standardized, and provided to a third-party system through the MITRADE application that prepares government-ready reports to comply with IMMEX regulations.
With many data sources to integrate and high standards for the results, the manufacturer brought in Wavicle's team of manufacturing data experts to help integrate and map the data, facilitating rapid, accurate reporting and enabling the MITRADE application to pull the necessary reports for customs and compliance.
Seamless pipelines for manufacturing data
Wavicle's team collaborated directly with MBGE, the company that built the MITRADE application, to ensure the manufacturer's data was prepared and mapped properly to fit within MITRADE's reports and meet IMMEX regulations. The manufacturer's ERP system, SAP, included a wide variety of data sources including data from customers, suppliers, BOMs, work orders, purchase orders, invoices, and more. Wavicle's consultants harmonized this data, aligning naming conventions and inputs across global trade data, and mapped all of the raw data from SAP to MITRADE.
Then, Wavicle ensured that the data was able to be pulled from SAP to MITRADE through a two-step process. Wavicle's team:
Built models within the manufacturer's Snowflake environment to store the necessary data points in a data warehouse, making it available for fast, accurate reporting
Wrote data ingestion queries to pull original source data and enacted an ETL process to translate the data from SAP into Snowflake models using AWS Glue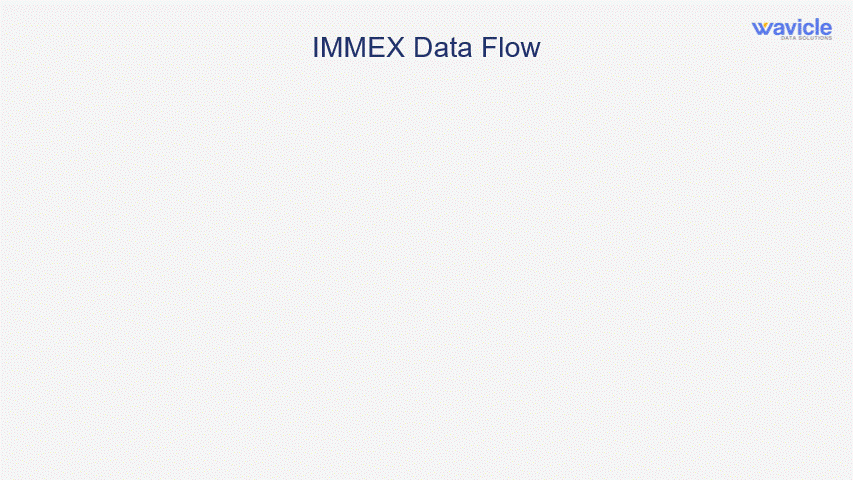 With this solution, the manufacturer's data now moves seamlessly from SAP through the Snowflake models to feed MITRADE and populate the reports the manufacturer needs to prove compliance with IMMEX regulations to the Mexican government.
Monumental savings from an effective data solution
This global electronics manufacturer can now prove the compliance of goods manufactured in their factories with IMMEX regulations, which is predicted to save them $50 million within the first year alone. Wavicle's team provided the solution necessary to enable tracking their goods from raw material imports to finished exports. This critical data will help the manufacturer raise profits and continue their growth as they continue nearshoring their manufacturing.
In addition to IMMEX compliance, this data offers other benefits to the manufacturer's individual factories and business as a whole. The resulting reports simplify the process of shipping goods across the border to the U.S., as customs agents can easily pull up documentation and see everything required to bring trucks into the country. Having access to an integrated and standardized repository of their manufacturing data also opens up new opportunities for data-driven decision-making. Previously siloed and inconsistent, the now standardized and consolidated data from the manufacturer's Mexican factories offers new opportunities for fast, accurate reporting for both corporate decision-makers and local factory management.
ABOUT WAVICLE DATA SOLUTIONS
Wavicle Data Solutions provides award-winning cloud data and analytics solutions that accelerate value, reduce risk, and empower our clients to make smart, data-driven decisions. We combine deep technical expertise and industry knowledge with proprietary automation tools to support the rapid shift to modern data architectures and real-time insights. Today's executives need more visibility into their businesses, faster than ever, and we help them get it. Founded in 2013, Wavicle has been recognized as an Inc. 5000 company four years running and is a multi-year recipient of the Chicago Tribune's Top Workplace award. Wavicle is also an NMSDC-certified MBE. For more information, visit wavicledata.com.